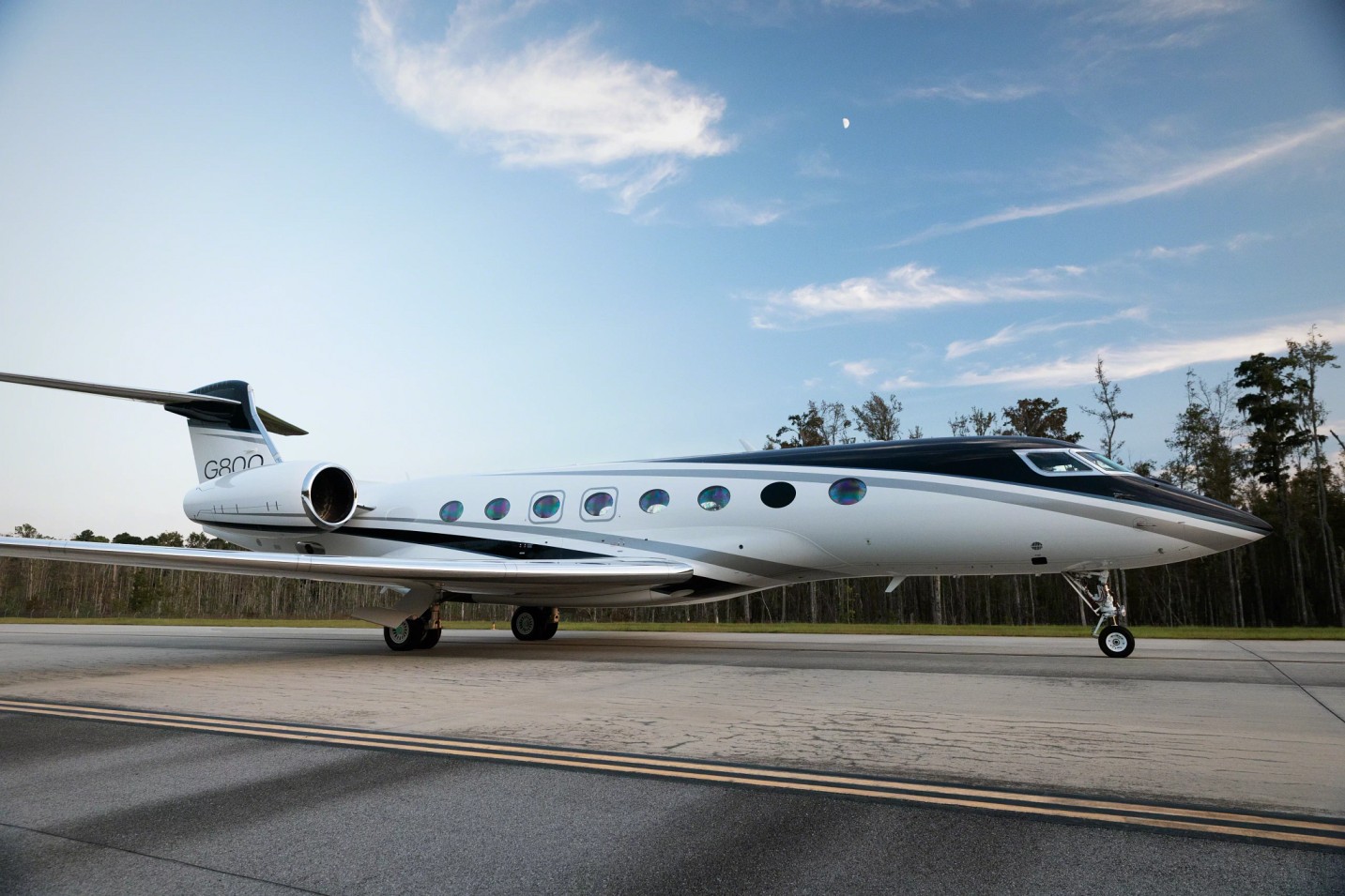 The all-new G800™ is the world's longest-range business aircraft, extending your reach to more people and places around the globe in a single flight.
POWERHOUSE PERFORMER
Take it to the limit. The G800 is a marvel of performance and efficiency as it cruises for a globe-spanning 8,000 nm/14,816 km1 at Mach 0.85. All-new, high-thrust Rolls-Royce engines team up with the industry's most aerodynamic wing to power you to new destinations, faster, while reducing fuel consumption and emissions.
FAST FORWARD
The G800 links you nonstop to more destinations around the world than any other business aircraft. As you fly greater distances at top speeds, you gain time, the most precious commodity of all. Gulfstream's high-speed range advantage can save you up to 1.5 hours3 on flights longer than 6,500 nm/12,038 km.

LONG-DISTANCE COMFORT
Enjoy the freedom of a cabin that accommodates all your moments, from focused work to relaxation and sleep. An elegantly appointed interior outfitted with the finest materials surrounds you in comfort and convenience. Breathe easy in an environment of 100% fresh air, renewed every two to three minutes and purified by our plasma-ionization clean air system.
Performance
Maximum Range *
14.816 km
High-Speed
Mach 0.90
Long-Range
Mach 0.85
Typical Cruise
Mach 0.87
Landing Distance
991 m
Initial Cruise Altitude
12,497m
Maximum Cruise Altitude
15,545m
* NBAA IFR theoretical range.
Actual range will be affected by ATC routing,> operating
speed, weather, outfitting options and other
factors
Interior
Total Interior Length
16.33 m
Cabin Length
(excluding
baggage)
14.27 m
Cabin Height
1.91 m
Cabin Width
2.49 m
Cabin Volume
60.54 cu m
Baggage Compartment
(usable
volume)
5.52 cu m
Weights
Maximum take off
47,899 Kg
Maximum landing
37,875 Kg
Maximum zero fuel
37,442 Kg
Basic Operating
(including 4
crew*)
24,630 Kg
Maximum Payload*
2,812 Kg
Payload with Maximum Fuel*
1,043 Kg
Maximum Fuel*
22,407 Kg
* Standard weights are based on
theoretical standard outfitting
configurations.
Actual weights will be affected by
outfitting options and other factors)
Design Standards
Avionics
Gulfstream Symmetry Flight Deck
Engines
Two Rolls-Royce Pearl 700
Rated Takeoff Thrust


(each)

81.20 kN
Passengers
Up to 19
External Dimensions
Lenght
30.40 m
Overall Span
31.39 m
Height
7.77 m