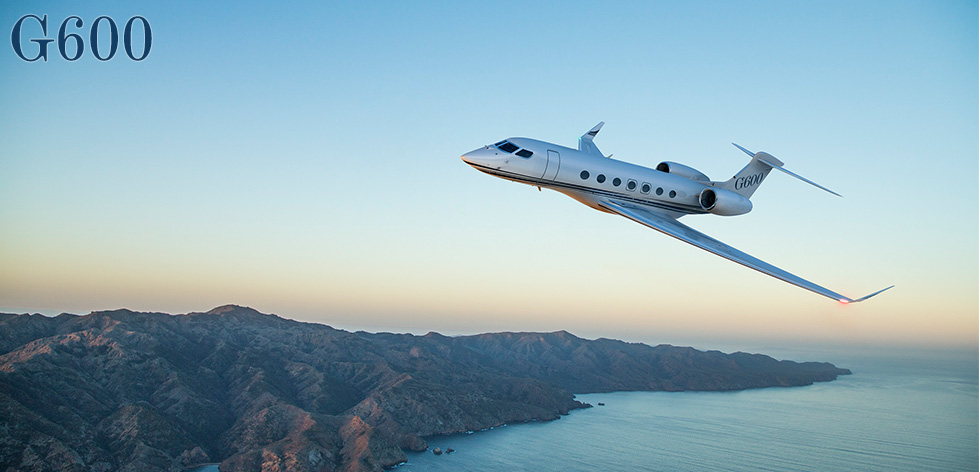 "Superior Speed, Sophistication"
Only one aircraft manufacturer routinely stretches the possibilities of business aviation, and in the G600, Gulfstream delivers the industry's next breakthrough with another ultralong-range aircraft that also offers best-in-class comfort, fuel efficiency and superior range at high speed.
G600 is the longest cabin in its class; it can be configured for up to four living areas, and in this business jet group, only Gulfstream can offer the option of a forward or aft galley. Even a shower is a possibility in the G600. The cabin design process affords more flexibility than ever in configuring the G600 cabin with the perfect blend of up to four living areas to suit the unique desires of any operator. Also a low cabin altitude and 100 percent fresh air replenished every two minutes reduce the effects of jet lag.
On the technology side, in addition to the HD monitors, satellite communications and Internet connectivity, "The Gulfstream Cabin Management System" gives travelers fingertip control of lighting, shades, temperature and entertainment amenities through touch-screen devices.
The innovative Gulfstream Symmetry Flight Deck™ features active control sidesticks and touch-screen avionics interfaces, both industry firsts.
Performance
Maximum Range *
11,482 km
High-Speed
Mach 0.90
Long-Range
Mach 0.85
Maximum Operating Mach number
Mach 0.925
Takeoff Distance
1.737 m
Landing Distance
945 m
Initial Cruise Altitude
12,497m
Maximum Cruise Altitude
15,545m
* NBAA IFR theoretical range. Actual range will be affected by ATC routing,> operating speed, weather, outfitting options and other factors
External Dimensions
Lenght
29.29 m
Overall Span
28.96 m
Height
7.70 m
Interior
Total Interior Length
15.62 m
Cabin Length
(excluding baggage)
13.77 m
Cabin Height
1.93 m
Cabin Width
2.41 m
Cabin Volume
53.35 cu m
Baggage Compartment
(usable volume)
4.96 cu m
Weights
Maximum take off
41,549 Kg
Maximum landing
34,836 Kg
Maximum zero fuel
26,054 Kg
Basic Operating
(including 4 crew*)
23,333 Kg
Maximum Payload*
2,722 Kg
Payload with Maximum Fuel*
816 Kg
Maximum Fuel*
17,581 Kg
* Standard weights are based on theoretical standard outfitting configurations.
Actual weights will be affected by outfitting options and other factors)
Design Standards
Avionics
Gulfstream Symmetry Flight Deck™
Engines
Two Pratt & Whitney Canada PW815GA
Rated Takeoff Thrust
(each)
69.75 kN
Passengers
Up to 19