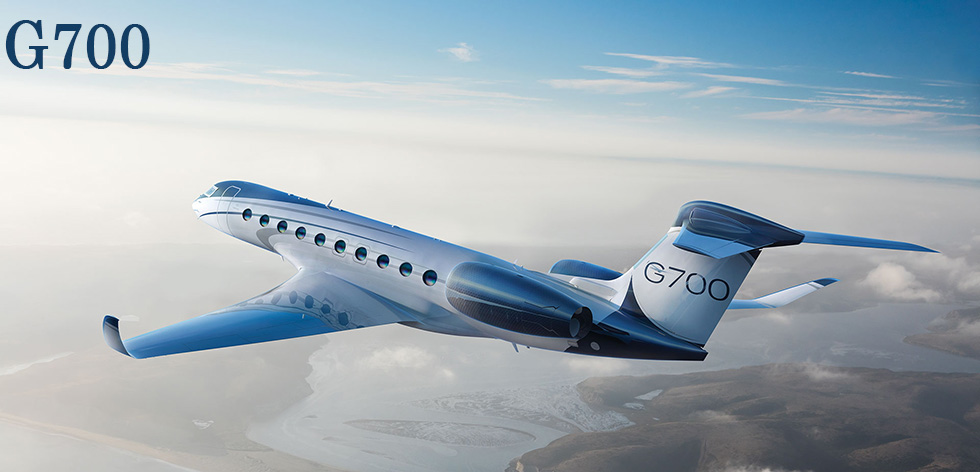 The G700™ delivers the most spacious, innovative and flexible cabin in the industry, plus all-new, high-thrust Rolls-Royce engines and the award-winning Symmetry Flight Deck™.
ALL-NEW GULFSTREAM CABIN
Life is lived in the moments between the milestones. Maximize every minute with up to five living areas. You can curate your ideal flight experience with exquisite designs and flexible configurations.
PURE WELL-BEING
All-new seats from our handcrafted collection convert into ergonomic beds. Seats are optimally positioned beside our iconic windows and near tactile cabin controls.
HIGH-SPEED ADVANTAGES
When you cruise at Mach 0.90, you reach your destination faster. Beyond saving valuable time, fewer flight hours means longer periods between scheduled maintenance visits, higher potential aircraft value and fresher crews.
PERFECT SYMMETRY
The award-winning Symmetry Flight Deck features the safety of active control sidesticks. Intuitive touch-screen avionics, paired with Phase-of-Flight™ intelligence, reduce both pilot workload and aircraft start-up time.

VISIONARY ENHANCEMENTS
Authorized operators may increase their access to airports by using our Enhanced Flight Vision System (EFVS) with dual head-up displays to land. Other key safety features include our award-winning Predictive Landing Performance System.
Performance
Maximum Range *
13,890 km
High-Speed
Mach 0.90
Long-Range
Mach 0.85
Maximum Operating Mach number
Mach 0.925
Takeoff Distance
1.905 m
Initial Cruise Altitude
12,497m
Maximum Cruise Altitude
15,545m
* NBAA IFR theoretical range.
Actual range will be affected by ATC routing,> operating
speed, weather, outfitting options and other
factors
Interior
Total Interior Length
19.41 m
Cabin Length
(excluding
baggage)
17.35 m
Cabin Height
1.91 m
Cabin Width
2.49 m
Cabin Volume
73.71 cu m
Baggage Compartment
(usable
volume)
5.52 cu m
Weights
Maximum take off
48,807 Kg
Maximum landing
37,875 Kg
Maximum zero fuel
28,463 Kg
Basic Operating
(including 4
crew*)
25,567 Kg
Maximum Payload*
2,896 Kg
Payload with Maximum Fuel*
1,014 Kg
Maximum Fuel*
22,407 Kg
* Standard weights are based on
theoretical standard outfitting
configurations.
Actual weights will be affected by
outfitting options and other factors)
Design Standards
Avionics
Gulfstream Symmetry Flight Deck
Engines
Two Rolls-Royce Pearl 700
Rated Takeoff Thrust


(each)

81.20 kN
Passengers
Up to 19
External Dimensions
Lenght
33.48 m
Overall Span
31.39 m
Height
7.75 m