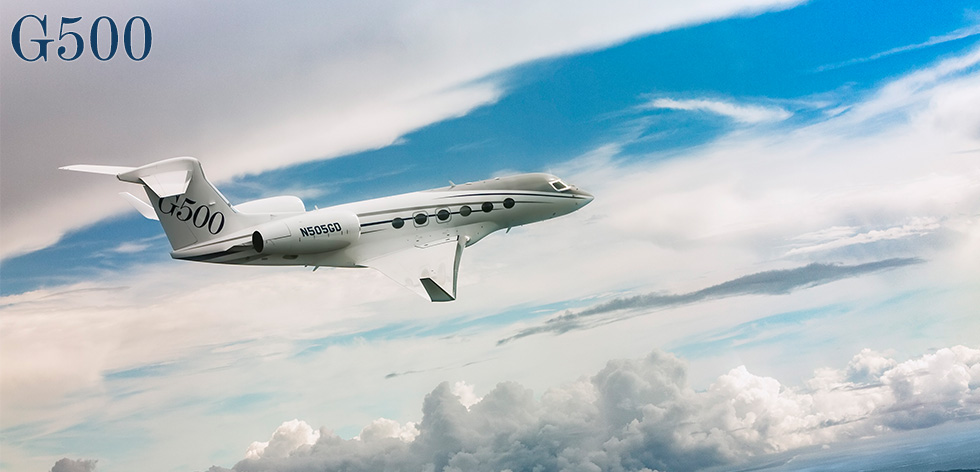 "The All-New Gulfstream G500"
With the G500, Gulfstream strikes an optimal balance of speed, maneuverability and comfort that helps passengers maximize every minute of their travel time.
Every aspect of the all-new Gulfstream G500's design and performance is dedicated to the fastest flight possible, while in the cabin, every detail is devoted to providing a uniquely personalized and completely comfortable interior.
All-new Gulfstream G500 cabin is the optimal size and shape to help produce best-in-class speed, maneuverability and fuel efficiency, yet it's still large enough to carry 19 passengers. High-speed communications and entertainment equipment allow the cabin to double as an office in the sky or a media room. Gulfstream acousticians engineered the interior to be quiet enough for passengers to converse in normal tones even while in flight.
Gulfstream achieves another flight deck breakthrough with the Symmetry Flight Deck™. As business aviation's leading innovator, Gulfstream debuts two revolutionary technologies in the all-new Gulfstream G500. The immersive, intelligent integration of the new flight systems enhances efficiency and further improves safety.
Performance
Maximum Range *
9.816 km
High-Speed
Mach 0.90
Long-Range
Mach 0.85
Typical Cruise
Mach 0.87
Takeoff Distance
1615 m
Landing Distance
945 m
Initial Cruise Altitude
13,106m
Maximum Cruise Altitude
15,545m
* NBAA IFR theoretical range.
Actual range will be affected by ATC routing,> operating
speed, weather, outfitting options and other
factors
Interior
Total Interior Length
14.50 m
Cabin Length
(excluding
baggage)
12.65 m
Cabin Height
1.88 m
Cabin Width
2.31 m
Cabin Volume
48.56 cu m
Baggage Compartment
(usable
volume)
4.95 cu m
Weights
Maximum take off
36,106 Kg
Maximum landing
29,189 Kg
Maximum zero fuel
23,632 Kg
Basic Operating
(including 4
crew*)
21,251 Kg
Maximum Payload*
2,381 Kg
Payload with Maximum Fuel*
1.315 Kg
Maximum Fuel*
13,721 Kg
* Standard weights are based on
theoretical standard outfitting
configurations.
Actual weights will be affected by
outfitting options and other factors)
Design Standards
Avionics
Gulfstream Symmetry Flight Deck
Engines
Two Pratt & Whitney Canada PW814GA
Rated Takeoff Thrust


(each)

67.4kN
Passengers
Up to 19
External Dimensions
Length
27.79 m
Overall Span
26.31 m
Height
7.77 m