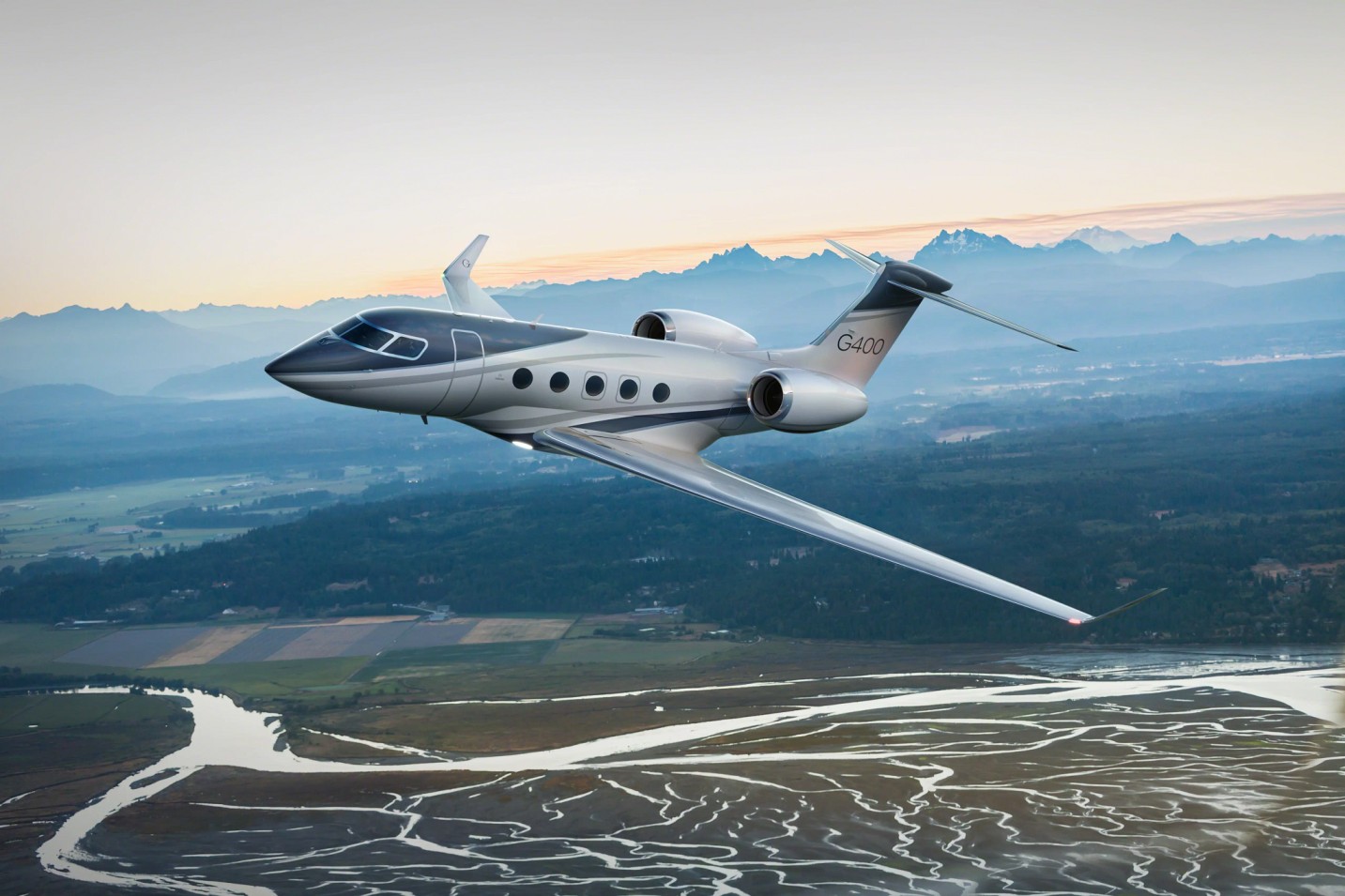 STEP UP TO THE LARGE-CABIN LEADER
MORE CABIN SPACE
See productivity soar with the largest cabin in the class. Optimal floorplans provide up to 2.5 living areas, so you have flexible space for meetings, focused work and relaxation. Thrive in an environment of 100% fresh air—replenished every two minutes—so you arrive refreshed.
MORE DESTINATIONS
Discover a breakthrough formula for 21st century business success. Reaching a maximum range of 4,200 nm/7,778 km3 at Mach 0.85 cruise, the G400 delivers you to farther destinations, faster. Travel nonstop from Geneva to New York, or São Paulo to Miami, while accruing significant time savings through the year.
MORE SUSTAINABLE
The G400 ramps up environmental performance on an intercontinental scale. Advanced twin Pratt & Whitney engines reduce fuel consumption, emissions and noise. The iconic Gulfstream aerodynamic clean-wing design further optimizes fuel-efficiency.
Gulfstream leads the industry in sustainability innovation, from new aircraft technology to environmentally responsible practices.
MORE ADVANCED
Gulfstream's award-winning Symmetry Flight Deck has revolutionized the way that pilots operate, vastly improving safety and efficiency. Active control sidesticks increase nonverbal communication between pilots through tactile cues. The industry's most extensive use of touch-screen displays, paired with Phase-of-Flight intelligence, reduces pilot workload and flight start-up time.
SAFETY INNOVATION
Our award-winning Predictive Landing Performance System uses real-time data to increase pilots' situational awareness on approach. With continuously updated data, pilots can make the necessary micro-adjustments to help prevent runway overruns.
Performance
Maximum Range *
14.816 km
High-Speed
Mach 0.90
Long-Range
Mach 0.85
Typical Cruise
Mach 0.87
Landing Distance
991 m
Initial Cruise Altitude
12,497m
Maximum Cruise Altitude
15,545m
* NBAA IFR theoretical range.
Actual range will be affected by ATC routing,> operating
speed, weather, outfitting options and other
factors
Interior
Total Interior Length
16.33 m
Cabin Length
(excluding
baggage)
14.27 m
Cabin Height
1.91 m
Cabin Width
2.49 m
Cabin Volume
60.54 cu m
Baggage Compartment
(usable
volume)
5.52 cu m
Weights
Maximum take off
47,899 Kg
Maximum landing
37,875 Kg
Maximum zero fuel
37,442 Kg
Basic Operating
(including 4
crew*)
24,630 Kg
Maximum Payload*
2,812 Kg
Payload with Maximum Fuel*
1,043 Kg
Maximum Fuel*
22,407 Kg
* Standard weights are based on
theoretical standard outfitting
configurations.
Actual weights will be affected by
outfitting options and other factors)
Design Standards
Avionics
Gulfstream Symmetry Flight Deck
Engines
Two Rolls-Royce Pearl 700
Rated Takeoff Thrust


(each)

81.20 kN
Passengers
Up to 19
External Dimensions
Lenght
30.40 m
Overall Span
31.39 m
Height
7.77 m