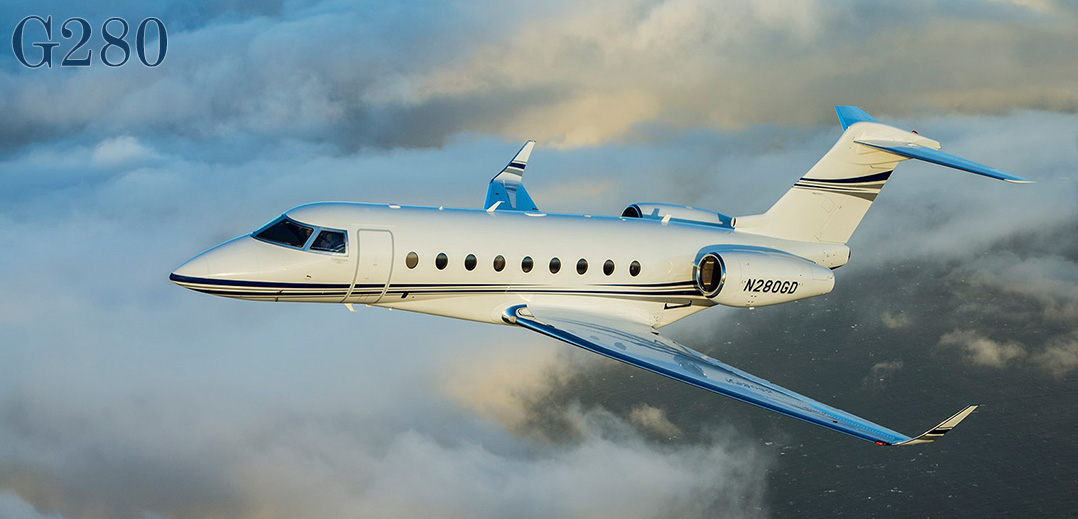 "Sleek, Smart, Swift"
The Gulfstream G280 has established itself as the super-midsize class leader in performance and economy.
A newly designed long, sleek wing and high-thrust engines increase range and speed, yet fuel economy is so well maximized the G280 has earned best-in-class fuel efficiency.
The PlaneView280 flight deck incorporates state-of-the-art flight and navigation systems while autothrottle and autobraking set new standards for aircraft control and handling.
The Gulfstream G280 is an aircraft so powerful and aerodynamic that it redefines the performance and capabilities of super-midsize business aircraft. And the interior? Paired with spacious width and length, that gives the G280 a cabin that comfortably seats up to 10 passengers with beds for up to five. Two signature Gulfstream features, 100 percent fresh-air circulation and a cabin pressurized to a lower, more easily breathable altitude, reduce the exertion on passengers' heart and lung functions, meaning they arrive less fatigued, more alert and ready to focus on the mission ahead.

Performance
Maximum Range *
6,667 km
High-Speed
Mach 0.84
Long-Range
Mach 0.80
Maximum Operating Mach number
Mach 0.85
Takeoff Distance
1.448 m
Landing Distance
829 m
Initial Cruise Altitude
13,106m
Maximum Cruise Altitude
13,716m
* NBAA IFR theoretical range. Actual range will be affected by ATC routing,> operating speed, weather, outfitting options and other factors
External Dimensions
Lenght
20.37 m
Overall Span
19.20 m
Height
6.50 m
Interior
Total Interior Length
9.83 m
Cabin Length
(excluding baggage)
7.87 m
Cabin Height
1.91 m
Cabin Width
2.18 m
Cabin Volume
26.50 cu m
Baggage Compartment
(usable volume)
3.40 cu m
Weights
Maximum take off
17,962 Kg
Maximum landing
14,832 Kg
Maximum zero fuel
12,791 Kg
Basic Operating
(including 4 crew*)
10,954 Kg
Maximum Payload*
1,837 Kg
Payload with Maximum Fuel*
454 Kg
Maximum Fuel*
6,622 Kg
* Standard weights are based on theoretical standard outfitting configurations.
Actual weights will be affected by outfitting options and other factors)
Design Standards
Avionics
Gulfstream PlaneView280™
Engines
Two Honeywell HTF7250G
Rated Takeoff Thrust
(each)
33.90 kN
Passengers
Up to 10